Over the past few days, it seems like several of our users have been hit with a screen like this on their Netflix accounts.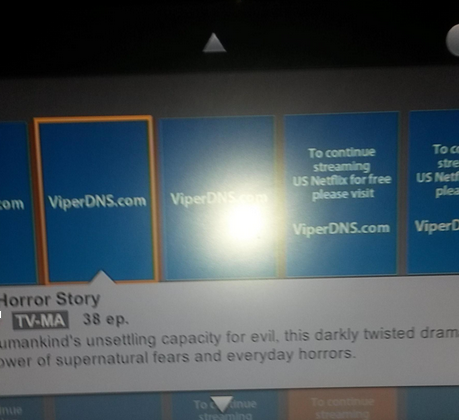 From what we've heard, it seems like you will still be able to watch your Netflix titles, but your thumbnails are altered to promote a SmartDNS company called ViperDNS.
So how could this happen without you knowing at all? It seems that ViperDNS has actually purchased a lot of the free DNS servers we post on here, and are using them to try and plug people into their SmartDNS service. In fact, one of our top servers seems to have been taken over by Viper.
This underhanded tactic is something that has upset us, as well as a lot of our users. In the mean time, we recommend that you switch your DNS back to normal in order to get rid of ViperDNS' thumbnail spam. We also encourage all of you not to pay for their service. In doing so, you would only be supporting a company that uses such unethical methods to try and trap customers into purchasing their service.
If you are looking for a temporary replacement, we recommend Unblock-Us, which you can read more about here. As many of our users may know, it is no secret that we are huge fans of Unblock-Us. As one of the original SmartDNS providers, they've consistently provided quality, reliable service.
We have been removing all DNS servers that are under ViperDNS' influence from our lists, and will continue to try and find working DNS servers for our users to enjoy.